Cuban soccer players defect in DC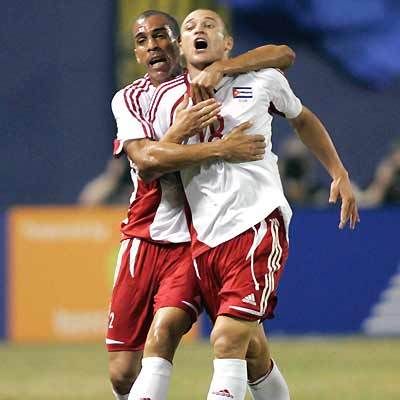 Alcantara (right)
Last Thursday, when the Cuban soccer team was in town to play the US team for a World Cup qualifier, Cuban player Reinier Alcantar thought, "Thanks but no thanks on the health care and repression" and bolted from his hotel (emphasis added):
Alcantara got up from a sofa, walked down a hallway, found a service door, checked over his shoulder, stepped outside and sprinted toward freedom.

He ran, and ran, and ran. Six to eight blocks. At full speed, looking over his shoulder the whole way, worried that someone would snag him and deliver him back to the Cuban delegation. Finally, when he realized nobody was chasing him, Alcantara stopped at a corner, caught his breath, and flagged down a taxi.

He speaks very little English, but he used what he knew when he got into the taxi cab. "Drive me far," he told the driver, motioning with his hand. "Go far, far, far."
His teammate Pedro Faife also ran away from the hotel Thursday. It's a charming and exciting story, even if you think the US hates Cuba more than we need to. After the jump, Alcantara struggles not to be a fatty and discusses the world's greatest city.

This summer's recent hurricane season wrecked Alcantara's hometown and caused a food shortage, encouraging him to come to the US:
"It's beautiful to see the amount and quality of food here, the choices, the possibilities," he said. "Meanwhile, people are hungry in Cuba, scraping to get by, obsessing about where they'll find dinner. I have to be careful with all this great food. If I keep eating, I won't be able to run anymore and I'll get out of shape."
But what city inspired Alcantara to defect? Not lovely Washington, but Houston, Texas, where "the thought of defecting crossed his mind." Hurray Houston and Washington.
Via GW Patriot