Say it ain't so, Wisey's Bum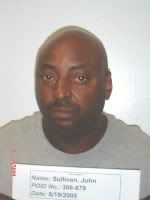 This guy is a sex offender. Is he also the Wisey's Bum?
I'm taking Saxaspeak's word (post now deleted) on this, but apparently there used to be a homeless man who begged in front of Wisey's. He was called the Wisey's Bum and everyone liked him (everyone except the Voice). He hasn't been around lately, and Saxaspeak thinks it knows why: he might be a sex offender.
Having not seen the Wisey's Bum, I don't know if that's him in the above picture. Also, since he's already served his time, what would keep him from hanging out in front of Wisey's?
Even if nearby Trinity school means he can't come by, I don't think this explains the Bum's absence. According to the Voice article linked above there were actually several Wisey's Bums, so one sex crime conviction wouldn't knock out the whole team.
UPDATE: Saxaspeak backed out on this and deleted their post!