Obama to appear on SmarTrip cards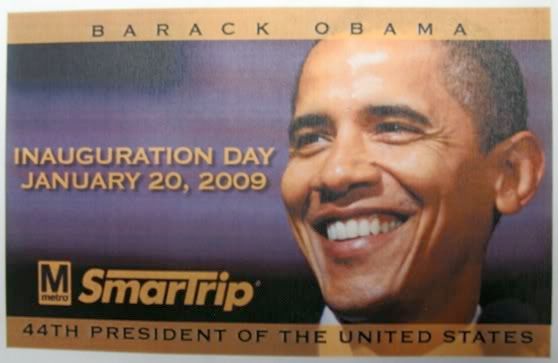 Pity the poor National Zoo pandas. They're diplomatic pawns between two great powers, not near as cute as they once were, and now not even their places on Metro cards are safe. That's because Metro is producing commemorative Barack Obama SmarTrip cards for the inauguration. But you'll have to be fast and loaded:
Currently, Metro plans to sell them for $10 per card, with no value added to the card at the time of initial purchase, which would make them $5 more expensive than regular SmarTrip cards. They may also be hard to come by, as Metro will only have an initial order of 35,000 on hand to begin with, though Taubenkibel said the agency hopes to have more available as time permits.
I just wish this change was permanent, because it'd be cool in an ominous, first-they-came-for-the-SmarTrips way.