Sophomore Jenny Faenza passes away, prayer service at 6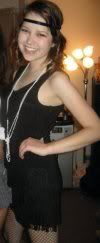 Sad news coming off break. According to an e-mail from Vice President for Student Affairs Todd Olson, College sophomore Jenny Faenza (above) died Saturday from chronic pulmonary hypertension.
There will be a prayer service for her at 6 in St. Williams Chapel. Olson's e-mail is after the jump.
Update: There's a Facebook group about her and pulmonary hypertension with 170 members. From the group, it looks like she spent the summer of 2007 recovering but was expected to be fine that August. It has four new members.
Dear Students, Faculty and Staff:

I am writing to share some sad news.  Over the weekend Georgetown officials were notified that Jenny Faenza (C '11) passed away due to complications related to her ongoing battle with chronic pulmonary hypertension.  Jenny was hospitalized and died on Saturday while visiting family near her hometown of Nashville, TN.  In her time on campus, Jenny was an engaged student leader, active in numerous organizations including the Copley Hall Community Council, the Protestant Student Forum and ESCAPE in addition to working at Midnight Mug.

The Office of Campus Ministry will hold a prayer service in St. Williams Chapel this evening at 6pm as an opportunity for students to gather and share reflections.

Georgetown officials have been in touch with her family to provide support and are working with them to make arrangements for a memorial service on campus in the next week as well.  Georgetown representatives will attend services the family has planned in their hometown tomorrow, Dec 2,  at 2 p.m. at Austin and Bell funeral home in Springfield, TN.   Notes of condolence and sympathy are being coordinated through the Office of Campus Ministry, 113 Healy Hall, for distribution to Jenny's family.

This is understandably difficult news for the students who knew Jenny.  Please know that the Office of Campus Ministry and Counseling and Psychiatric Services (CAPS) can provide support 24/7 for students experiencing difficulties.  To reach a campus minister on duty after hours call (202) 668-3195. To page a staff member on duty at CAPS after hours please call (202) 444-PAGE.   Students needing to address specific academic matters as a result of this may  contact your respective dean's office for assistance as well.

Please know that our thoughts and prayers are with Jenny's family and friends during this time.

Sincerely,

Todd A. Olson
Vice President of Student Affairs