Posted by:
Juliana Brint
in
News
,
Photography
,
Vox Populi
, tags:
Alcohol Policy
,
Georgetown Cuddler
,
GUSA
,
GUSA Election
,
Hard Drive Theft
,
Hate Crimes
,
Intellectual Life Report
,
LGBTQ Center
,
Norovirus
,
Prefrosh Preview
,
SAC
,
SCUnity
,
The Hoya
This week Vox figured we'd give you some sense of institutional history by presenting a primer of the ten most widely-discussed campus news stories from the past couple years.
10. GUSA election debacles
GUSA Candidates, pre-squabbling
Georgetown's student government, GUSA, doesn't have a great record as far as presidential elections are concerned. In 2008, they experimented with instant run-off voting. They failed to conduct the election properly, though, and had to have a re-vote with the top four candidates.
This past year wasn't much better. GUSA ditched IRV, but the election still devolved into chaos when the Election Commission disqualified two candidates hours before voting started. GUSA largely objected to the Election Commission's decision, the election was suspended, complaints were filed, Election Commissioners resigned, and the disqualified candidates were ultimately reinstated.
9. Hoya independence and insensitivity
Students hold a sit-in after the Hoya's April Fools' issue
The Hoya, Georgetown's self-proclaimed "newspaper of record," has been trying to go independent from the University for a quite a while. Indications were that they were set to go independent this coming year.
They ran into trouble this spring when they published a racially insensitive April Fool's issue. The issue led to protests from students and promises from the Hoya to reform.
8. SCUnity studies diversity
Cook and Kesten after presenting the SCUnity report
Two years ago, Brian Kesten (COL '10) and Brian Cook (COL '09) formed the Student Commission for Unity to study diversity at Georgetown. They conducted a large-scale student survey, and found serious problems with race relations on campus.
They analyzed the survey's data in a 300 page report and used it to make some controversial policy recommendations. Although initially a GUSA committee, they broke away after GUSA approved only six of their eight recommendations.
7. The Norovirus Outbreak
A time line of Norovirus cases
This October, Georgetown was hit with the Norovirus plague. The aggressive, highly-contagious virus infected at least 215, causing vomiting, diarrhea and dehydration. The outbreak was probably caused by food from Leo's Grab n' Go station and temporarily shut down Leo's and forced athletic teams to cancel games due to sick players.
6. SAC and GUSA battle over funding student groups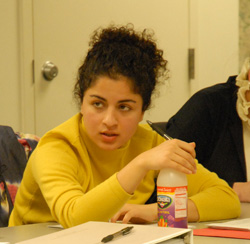 SAC Chair Sophia Behnia (COL '09) often came to loggerheads with GUSA
The Student Activities Commission, the group of students responsible for doling out funds to clubs and approving their events, is not exactly the most popular bureaucratic body on campus. A couple years ago a GUSA audit revealed that SAC had $210,006 sitting around in reserve funds, and GUSA and SAC have been butting heads ever since.
GUSA has attempted with little success to start up an independent club fund and battled with SAC over the process of appointing the Commission Chair. Most recently GUSA threatened to not approve next year's budget for student activities due to SAC's indiscretions, but they relented at the last minute.
5. Hard drive with 38,000 Social Security Numbers stolen
A non-encrypted hard drive containing the names and social security numbers of 38,000 Georgetown students and alumni was stolen from the Student Affairs Office in the Leavey Center over winter break two years ago. The administration didn't notify students for three weeks.
Because the fifth floor of Leavey, where the Student Affairs Office is located, requires a key to enter and the only thing stolen was the hard drive, some suspected that it was an inside job.
4. The "Cuddler" assaults Georgetown students

View The Georgetown Cuddler in a larger map
Suspected "Cuddler" incidents as of March 2009
Over the past few years, there have been a series of sexual assaults in which a man climbs into bed with a female student. The Metropolitan Police Department has said they suspect the incidents are related and students have taken to calling the perpetrator "The Cuddler."
3. Secret Intellectual Life Report
An excerpt from the report (click to enlarge)
Back in March 2007, the Main Campus Executive Faculty compiled a confidential report about intellectual life report at Georgetown, and the results weren't pretty.
The report [PDF], which the Voice obtained, harshly criticizes the level of student engagement in academics and made several recommendations (including one about the need to address partying and drinking; shortly after the report was secretly released, the new alcohol policy was enacted).
2. Alcohol Policy crackdown
Among the new regulations was a ban on beer pong tables
After confronting significant student protest against a proposed keg ban, at the end of the 2006-07 school year the administration sneakily enacted some pretty restrictive new alcohol policies.
When school started up again, the policies ended up stifling on-campus student life and pushing parties off campus—much to the dismay of neighbors. At the end of the 2007-08 school year, the Alcohol Policy Working Group proposed some revisions to soften the policy, some of which were adopted.
1. Hate crime spurs creation of LGBTQ Center
GU Pride hosted protests against the hate crime in Red Square
In September of 2007, a Georgetown student accused Phil Cooney (MSB '10) of yelling homophobic slurs and attacking him. The University only acknowledged the incident three weeks later, after many students had heard about it on the local news. Days later, a second anti-gay hate crime was allegedly committed.
Charges against Cooney were ultimately dropped, but the University's silence about the first incident prompted protests by GU Pride which ultimately led to the creation of the LGBTQ Resource Center (the first such center at a Catholic university).