Vox's fall TV premier round-up
Every fall, the TV-viewing population receives an onslaught of both new television pilots and old, returning shows attempting to revitalize their reputations. So far, this pilot season has had its own share of decent new shows, not-so-decent new shows, and versions 2.0 of a few older ones. Here are some notable mentions:
America's Next Top Model: Now featuring short girls. Tyra's such a humanitarian (and the show's been doing the same thing for so long) that she decided to extend her gift of self-indulgent critique to girls who aren't half Amazonians. I wonder when the season with all plus-sized girls will come around…
The Beautiful Life: A new show about models (what's with this season and models?) from executive producer Ashton Kutcher. The cast boasts Elle MacPherson, a fresh-from-rehab Mischa Barton stretching her acting abilities to play a pill-popper, and some kid from High School Musical. The September 16th premiere featured terrible acting, ridiculous outfits, and a hilariously dramatic runway walk. Apparently all half-dozen of the people who tuned in to the premiere felt the same way, because the show got the axe after just one episode.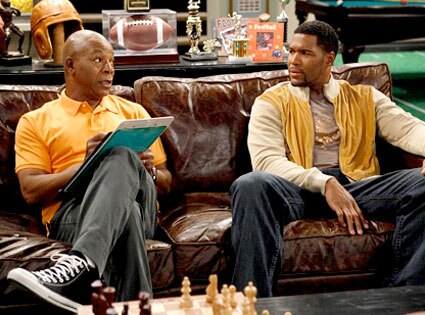 Brothers: An incomprehensible new Fox show starring retired New York Giant Michael Strahan as, here's a stretch, a former NFL player named Mike. The catch is that, despite the fact that he's pushing forty, he's moved back home to live with his crazy father, paralyzed younger brother, and sarcastic mom. The plot thickens when it comes out that both he and his brother, a restaurant-owner, are going broke. The humor is mostly based on the rather tired "why is my brother famous and I'm not" situation and the relationship between the mismatched parents, but the funniest moments involve laughing at the younger brother's paralysis. Yep, the laugh track goes off when he gets hit by a door. Offensive? Maybe.
The Cleveland Show: A Family Guy spin-off following Quahog resident Cleveland Brown as he moves to Virginia and marries his high-school sweetheart. The result is a situation reminiscent of the Brady Bunch between him, his son, his wife, and her two kids. It's Family Guy without the Griffins, complete with a sassy toddler and an animal that both talk like human adults. Funny, but I miss Stewie.
Community: A new NBC show, cleverly premiering right after The Office, featuring The Soup's Joel McHale and The Daily Show's John Oliver. It follows a group of eccentric characters attending community college, and the madness that ensues. While maybe not the greatest, cleverest premise for a show, it has a decent cast and a few surprisingly good, somewhat mean-spirited laughs. Certainly not the next Office, but my guess is it'll survive longer than most other new shows will.
Flashforward: No one watches Lost anymore, so ABC thought it was high time for a new mindbender to confuse their viewers with. Flashforward's premise is that one day, for 2 minutes and 17 seconds, everyone in the world blacked out and had a vision of what their life would be like in six months. That intense event happened in the first episode, and it seems that the rest of the season will relate to how these people react to having seen two minutes of their futures. Does that sound really boring to anyone else?
Glee: It previewed in the spring, and is back for a full-fledged season this fall. Full of lots of catchy tunes, in the form of both Glee Club performances and spontaneous, Broadway-style musical outbursts, the show's high points alternate between humorous and dramatic (though these ones can also be somewhat unintentionally humorous). If for nothing other than its sheer originality, Glee's worth a watch.
Melrose Place: Love remakes? Soap operas? Ashlee Simpson? Me neither. The show follows a bunch of Hollywood hopefuls, moguls, and offspring of the two as they live the high life and get themselves into unrealistic amounts of trouble. Despite all the hype it's gotten from the media, this one seems to be headed in the same direction as The Beautiful Life.
Project Runway: Yes, it's a few weeks old. But it's still made some pretty big changes since being emancipated from Bravo after its fifth season. Though now airing on Lifetime and set in L.A. instead of New York, the show's basic premise hasn't changed much in a major sense. The difference is the added spin-off, Models of the Runway, an America's Next Top Model-esque show which features the trials and tribulations of living in a house full of girls who are pretty, skinny, and know it. Runway's still good, but the spin-off isn't worth the half-hour that it clogs up your TiVo.