Philly Pizza allowed to stay open until January 12 hearing, will be focusing on delivery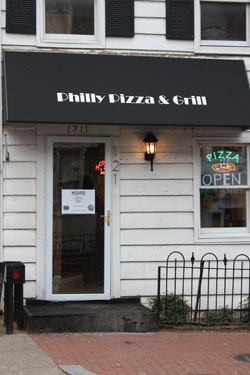 As The Hoya reported earlier today, the D.C. Department of Consumer and Regulatory Affairs recently revoked Philly Pizza and Grille's certificate of occupancy, meaning everyone's favorite midnight pizza place could be shut down.
Today, the D.C. Board of Zoning Adjustment held a hearing on whether to grant DCRA a temporary restraining order, which would force the restaurant to close pending a January 12 hearing on the agency's allegations of zoning violations.  The BZA granted Philly Pizza a stay, meaning they will be able to remain open at least until the January hearing.
According to GUSA Vice President Jason Kluger (MSB '11), who attended today's hearing, the conflict stems from the fact that Philly Pizza is zoned as a sit-down restaurant.  DCRA is alleging that they are actually primarily a take-out operation, and are thus violating their zoning restrictions.
Kluger and GUSA Communications Director Molly Breen (MSB '11), who also attended the meeting, said that Philly Pizza will be trying to focus more on delivery in the next few months, and is encouraging students to call in their orders instead of coming by the store.  According to Breen, Philly Pizza is encouraging students who do go down to Potomac Street to be mindful of the restaurant's neighbors.