Posted by:
Will Sommer
in
News
,
Vox Populi
, tags:
Boathouse
,
Crew Team
,
Potomac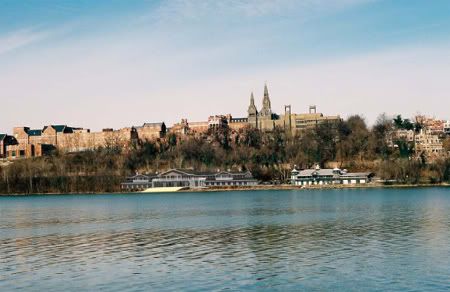 Computer-generated Georgetown boathouse (the boathouse on the left)
The administration must love the crew team. Now, new lobbying disclosure reports from the first quarter of this year show that boathouse lobbying has cost Georgetown at least $1,030,000, up from $990,000 from the last time the Voice reported on boathouse lobbying.
The two reports, filed by lobbyists at the Carmen Group and Georgetown's personal lobbyist Scott Fleming, report more than $40,000 spent on the boathouse. The Carmen report (embedded below) has $40,000 paid from Georgetown to the Carmen Group. This quarter, according to the report, the Carmen Group took a break from its usual job talking to the National Park Service and just helped Georgetown deal with environmental paperwork.
It's impossible to figure out how much Fleming's form (PDF) adds to the boathouse bill because the $30,000 he lists in lobbying fees includes advocacy for other issues like the D.C. Voting Rights Act, which was a pretty cool thing of Georgetown to lobby for.
Check out the Carmen Group's documents after the jump!
8 Comments »