Panda Cam makes voyeurism cute again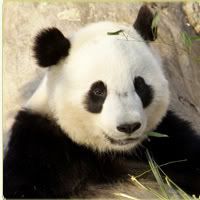 The National Zoo is one of only five zoos in the country with giant pandas, but the zoo is a bus ride and a Metro stop away. Normally, people who just want a quick panda fix, or don't like pretending that they're interested in gazelles would be out of luck. Fortunately, the National Zoo website has the Panda Cam, a continuous feed of those beasts are up to.
As of lunchtime Monday, Tai Shan was pressing his panda face into a rock, asleep. But then a weird mist floated by for a while. Fortunately, the panda seemed unharmed.
The pandas cost a bundle, so the least we can do is get our money's worth by monitoring them constantly.
Posted by Will Sommer