MPD cracks down on jaywalking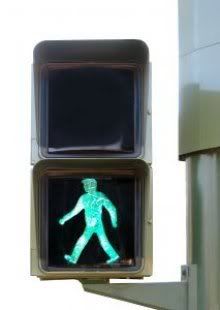 DCist reports that Metro police might actually start enforcing DC's often-ignored jaywalking rules. Their evidence is circumstantial (some people said they got ticketed), but with the nice weather encouraging cops to get some exercise and a city-wide campaign to make pedestrians follow the law, it's not unlikely.
It also won't hurt Mayor Fenty's budget. Enforcing small laws like jaywalking restrictions can be a boon for a city's treasury, and he does have the school overhaul coming up.
Judging from my experience during another city's jaywalking crackdown, cops pick off whomever they think looks like they have time to spare and won't yell. A similar process is used when a Voice reporter picks people to interview for student quotes. In both cases, as long as you look gruff, you'll get away.
Posted by Will Sommer