Michelle Rhee's own Tammany Hall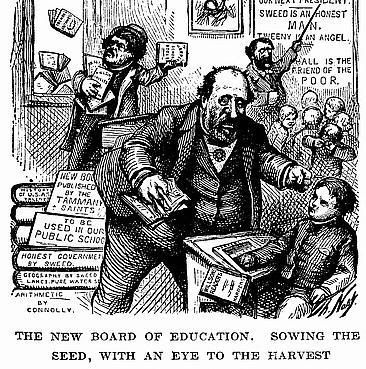 In the midst of contract negotiations between DC Public Schools Chancellor Michelle Rhee and the Washington Teachers' Union, a group of area business people have taken matters into their own hands by hiring teachers to lobby their fellow educators in favor of Rhee's plan. Rhee's green tier/red tier system, which would allow teachers to forgo tenure in favor of merit-based pay raises, was contentious enough without help from this new lobbying group, Strong Schools DC.It makes sense that DC's business community would want to push for measures that will raise standardized test scores, presumably because better public schools will have a positive effect on property values. But there's no guarantee that Rhee's plan will actually raise scores, and it's sketchy that teachers are being paid to lobby for Rhee because it calls their feelings about the plan into question.
The worst part, though, is Rhee's evasive not-quite-denial of involvement with the organization:
Through her spokeswoman, Mafara Hobson, Rhee said she can recall no communications with her staff about Strong Schools or with the organization directly.
I know she's a busy woman, but not being able to recall something is pretty different from being sure you didn't do it, and if Rhee is at all involved in paying teachers to push her plan, DCPS is in even worse shape than I thought.