What he said?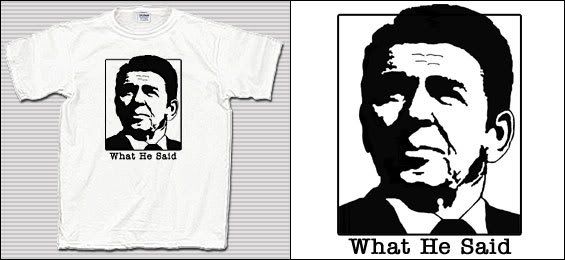 The new College Republican shirt for this year is a picture of Ronald Reagan and the text "What He Said" (similar to the one above). So, what did he really say?
"If you've seen one tree, you've seen them all?" (on forest preservation)
In 1976, he talked about working people angry about the "strapping young buck" using food stamps to buy T-bone steaks at the grocery store
"You can't help those who simply will not be helped. One problem that we've had, even in the best of times, is people who are sleeping on the grates, the homeless who are homeless, you might say, by choice."
He cited a Chicago "Welfare Queen" who had ripped off $150,000 from the government, using 80 aliases, 30 addresses, a dozen social security cards, and four fictional dead husbands. The country was outraged; Reagan dutifully promised to roll back welfare.
Charming!
Picture from Thoseshirts.com