Juicy Campus's Matt Ivester: exactly as you'd expect, but delightfully so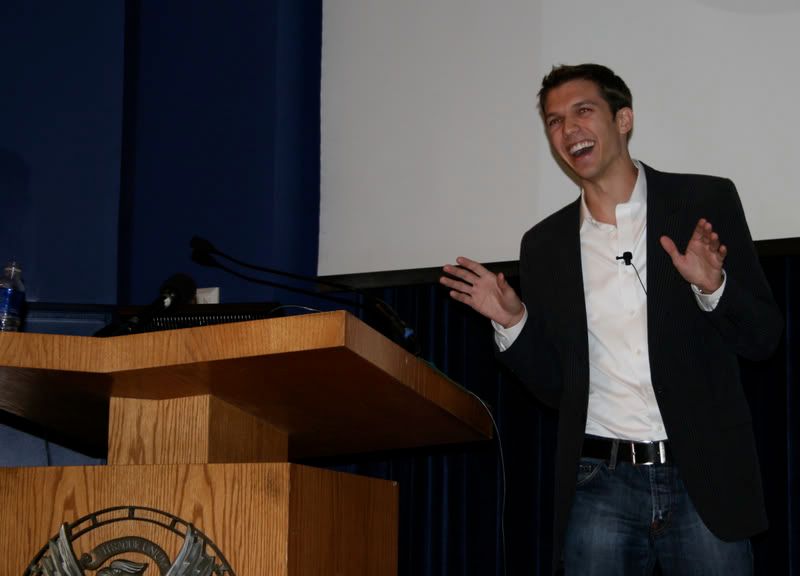 You can keep your Kofi Annans and your Rupert Murdochs. For me, the best mark of a speaker at Georgetown is that he or she has no patience with stupid questions. The Ethicist was pretty good at dissing rambling questioners two years ago, but Matt Ivester, the founder of Juicy Campus, didn't just raise that bar–he called it a make-out slut the next day.
Lecture Fund brought Ivester to campus because of the furor Georgetown Juicy Campus caused when it launched earlier this semester. It doesn't hurt that, judging by the number of times his people have asked Vox Populi to interview him, he probably comes cheap.
Ivester came off as reasonable in his speech. He's got the law on his side, and, as he pointed out, it's not like anyone hassles Google for libel posted on Blogger. He generally stuck to the same points that he used with the Independent and the GW Patriot. The only real "news" in his talk was that Juicy Campus won't expand to high schools and that he doesn't know how long posts will stay up.
The best questions included a student asking if Ivester would take down Georgetown Juicy Campus if a majority of students voted for it (no, because what about the folks who want it to stay) and a rambling Philosophy student who asked the same question thrice. Ivester was having none of it and told him he didn't know how to answer his question.
That was a treat, but most people weren't amused. The people behind me, for example, wanted to ask Ivester how he sleeps at night. Is everyone seriously this mad about Juicy Campus? Our Juicy Campus is boring, not sinister.
Photo by Lexie Herman