RIP Father Thomas King, 1929-2009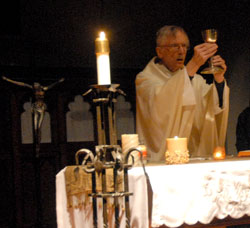 This evening, Father Thomas King, S.J. passed away at 80. According to Voice photographer Helen Burton (COL `11), he is rumored to have died of a heart attack. Representatives from the Office of Communications could not be reached at the time of this post.
Fitz Lufkin (COL `11), the vice president of College Democrats, confirmed that he died. Lufkin was reached while he was waiting for a memorial Mass to begin for Fr. King [Edit] . The memorial Mass is now in progress at Dahlgren Chapel; it began at 11:15, the same Mass that Father King said daily at Georgetown for forty years.
Father King was well known on campus for holding late night Masses. Earlier this year, he reflected on 40 years of the 11:15 Mass in the Voice:
I have been teaching and preaching here these many years. I like that double arrangement, for I think our academic life and our faith life need each other to be complete. This is who I am, and I gladly share this in both chapel and classroom. Faith and reason is the unity John Carroll had in mind in founding our University.

I look back on 40 years of teaching and preaching and know they have been happy years. I truly have been blessed. I love the University and the two-fold work it has enabled me to do.
Blog editor Juliana Brint is currently attending the memorial Mass and will report on it shortly after she returns.Vox will keep you posted as we learn more.
Update (2:35 p.m. Wednesday): Georgetown's Director of Media Relations Andy Pino just confirmed that Father King passed away yesterday at around 5:30 p.m. due to a heart attack.
A wake will be held at Wolfington Hall on Friday from 3:00 p.m. to 5:00 p.m. and from 7:00 p.m. to 9:00 p.m. The funeral will be held at Dahlgren Chapel at 9:00 a.m. on Saturday.
You can read the full text of the University Broadcast email that will be sent out later today after the jump.
Dear Students, Faculty and Staff:The Jesuit community at Georgetown mourns the sudden death of Fr. Thomas King, S.J., who died of a heart attack in his room yesterday afternoon around 5:30

PM

. A native of Pittsburgh, he is survived by his brother, Fr. William King, also of the Jesuit community here at Georgetown, and by his sisters, Mrs. Martha Cox of Pittsburgh, PA and Mrs. Catherine Marie Tovey of Portland, OR.

Fr. King taught theology at Georgetown for over forty years and published widely on theological and spiritual topics. He was deeply interested in the thought of Pierre Teilhard de Chardin, the famous Jesuit paleontologist, and in the connections between religion and science. He was famous on campus for the impact of his "Problem of God" class and for his remarkable, late evening liturgies.




The funeral will be held at Dahlgren Chapel of the Sacred Heart on the Georgetown campus at 9:00

AM

on Saturday, June 27. A wake will be held at Wolfington Hall, the Jesuit residence, from 3:00 to 5:00

PM and

from 7:00 to 9:00

PM

on Friday, June 26. In September, with the return of students and faculty a campus-wide memorial Mass will be celebrated for Fr. King.




John Langan, S.J.

Rector