Georgetown boathouse lobbying gets a little more expensive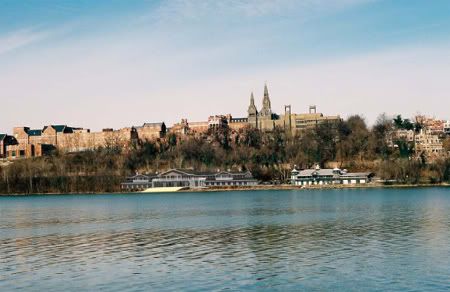 Georgetown must really want a boathouse on the Potomac. In the fourth quarter of 2009, the school spent at least $5,000 on lobbying efforts (PDF) ultimately aimed at getting the National Park Service to approve the proposed boathouse on the Potomac. That brings the total lobbying fees spent on the boathouse to at least $1,060,000, by Vox's count.
Unfortunately for Georgetown's lobbyists in the Carmen Group, these are no longer boom times for boathouse lobbyists. In the first quarter of 2009, the group was pulling in $40,000 for talking with National Park Service officials about the boathouse. By the fourth quarter, though, the Group was only making $5,000 for helping Georgetown with "environmental documentation."
According to Scott Fleming, Georgetown's Associate Vice President for Federal Relations, boathouse lobbying now is focused around matching construction plans to existing sewage pipes that run along the river (although not into the river, Planeteers).
As usual, it's impossible to know how much Georgetown spends exactly because of Fleming's own lobbying report (PDF). The report says Fleming spent $20,000 on various lobbying efforts, including the boathouse and a potential West Bank hospital.