Pope Francis meets Georgetown faculty and students in international conference on religious freedom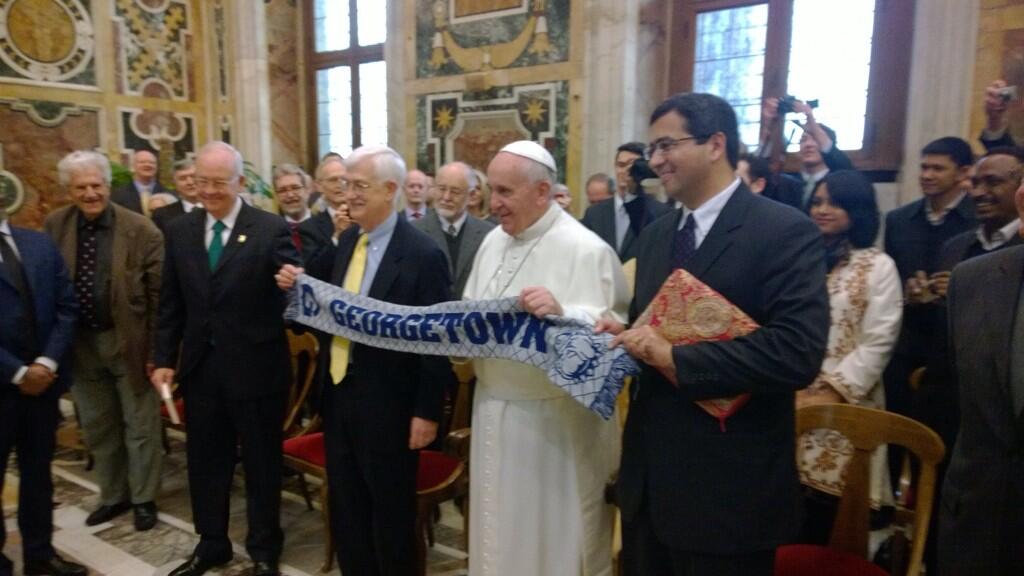 On Dec. 14, six Georgetown students, professors and staff members had the opportunity to meet Pope Francis. They were attending an international conference on religious freedom organized and sponsored by Georgetown's Religious Freedom Project, part of the Berkley Center for Religion, Peace and World Affairs.
The conference, entitled "Christianity and Freedom: Historical and Contemporary Perspectives" and held from Dec. 13-14 in Rome, explored Christianity's contributions to freedom, particularly in Asia, Africa, and Latin America, despite persecution and opposition. Dozens of scholars around the world, including those from Georgetown, also presented the findings of a two-year study on the subject.
The six Georgetown representatives who attended the private audience were Kevin Sullivan (SFS' 14), Nick Fedyk (SFS' 14), RFP director Tom Farr, RFP associate director Timothy Shah, Kyle Vander Meulen, and A.J. Nolte.
"He literally exudes humility and kindness in his very being," Sullivan said. "He walks very intently, takes the time to make eye contact and smile at everyone in the room, and chuckles even though I don't think he understood some of our jokes."
During the audience, the Pope learned more about the RFP and the purpose of its conference. "He told all of us, 'Go on!'," Shah said. "This gentle exhortation was a profoundly moving affirmation and inspiration for our work, at a time when far too many people around the world are denied religious freedom."
After the meeting, the Berkley Center tweeted a photo (shown above) of Pope Francis standing in front of a group of faculty and students and holding up a Georgetown scarf.
"His gesture and good humor with the Georgetown scarf I provided for the picture connected our history and mission of the university to that of the representative of the Church," Sullivan said.

William Peter Blatty (COL '50), Georgetown alumnus and author of The Exorcist, recently submitted a Canon Law petition that has reached the Vatican. While the papacy has yet to release an official response to the petition, surely this conference and meeting with Pope Francis reaffirms our Catholic identity…right?
Editor's Note: Vox has edited the post to include more details of the Pope's audience with the Georgetown representatives.
Photo: Georgetown University