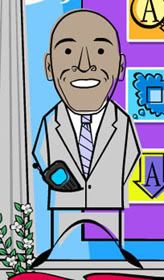 Annexing a school district is nothing for new DC mayor Adrian Fenty, and he doesn't have to tell anyone how much he blew on his inaugural ball. But has he been immortalized in an off-putting cartoon version of himself? Finally.
This particular bit of mayoral fan art is from his office's children's section. You can color Abe Lincoln's beard, or rearrange a jumbled picture to reveal a prehistoric skull.
It's more compelling, though, to think about the mayor. Why is his jacket pocket so small he can't fit his cell phone inside? Why did his tailor use robin's egg blue and light purple, both decidedly not power colors? Why is his nose an upside-down Ionic column?
Besides the mayor, my favorite part of the Kid's Korner is George Washington and Abraham Lincoln playing tic-tac-toe. Historians debate which was the better president, but Washington always goes for the corners, and that's enough for me.
Posted by Will Sommer